Home
 WELCOME TO THE WHEELS OF DESTINY TRILOGY
   Book 1 - Trail To Destiny                                                 
Book 2 - Destiny's Journey
                                                                                   2015 AWARD WINNER!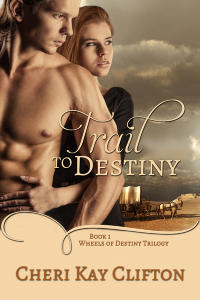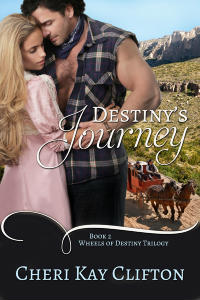 Grab your reins and read
my epic historical westerns,
Book 1, TRAIL TO DESTINY
Book 2, DESTINY'S JOURNEY
and just released
Book 3, YESTERYEAR'S DESTINY
If you enjoy them,
please leave a review.
Happy Trails!
Book 3 - Yesteryear's Destiny
5 Star editorial review from InD'tale Magazine! 
"This book captures the reader's attention from page one, with 

twists and turns that are both unique and entertaining. Fans of
this time-travel genre will love the originality with the author creating
a story that feels familiar, yet different, which sets this story apart from
so many out there!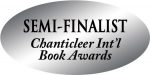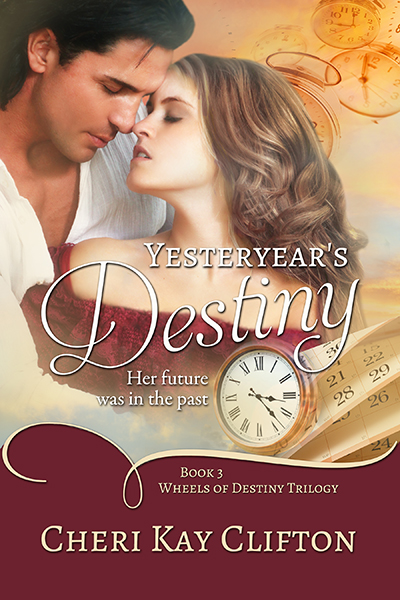 TRAIL TO DESTINY
Book 1 begins the Herrington Family saga.
Laura Westbrook expected to face her share of challenges crossing the continent on a wagon train.  But when she saves the life of the courageous white warrior, Grey Wolf, she finds the pathways between pride and prejudice, love and loyalty far more difficult to travel.
Having buried deep within him the horrific memory of his family's massacre at the hands of a rogue band of Pawnee, young David thrives under the care and tutelage of his rescuer, Cheyenne Chief Black Arrow.  Trained to become the proud warrior named Grey Wolf, he finds his life changed again by the beautiful and strong-willed Laura, who encourages him to reclaim his forsaken heritage and face the secrets of his haunted past.
From the rugged Nebraska plains to a Cheyenne village, from an army fort to a small town in California, destiny leads Laura and Grey Wolf on a trail of passion and danger that culminates in an astounding revelation.
Click here for instant preview of Trail To Destiny 
(click here) Available ebook & paperback:  Amazon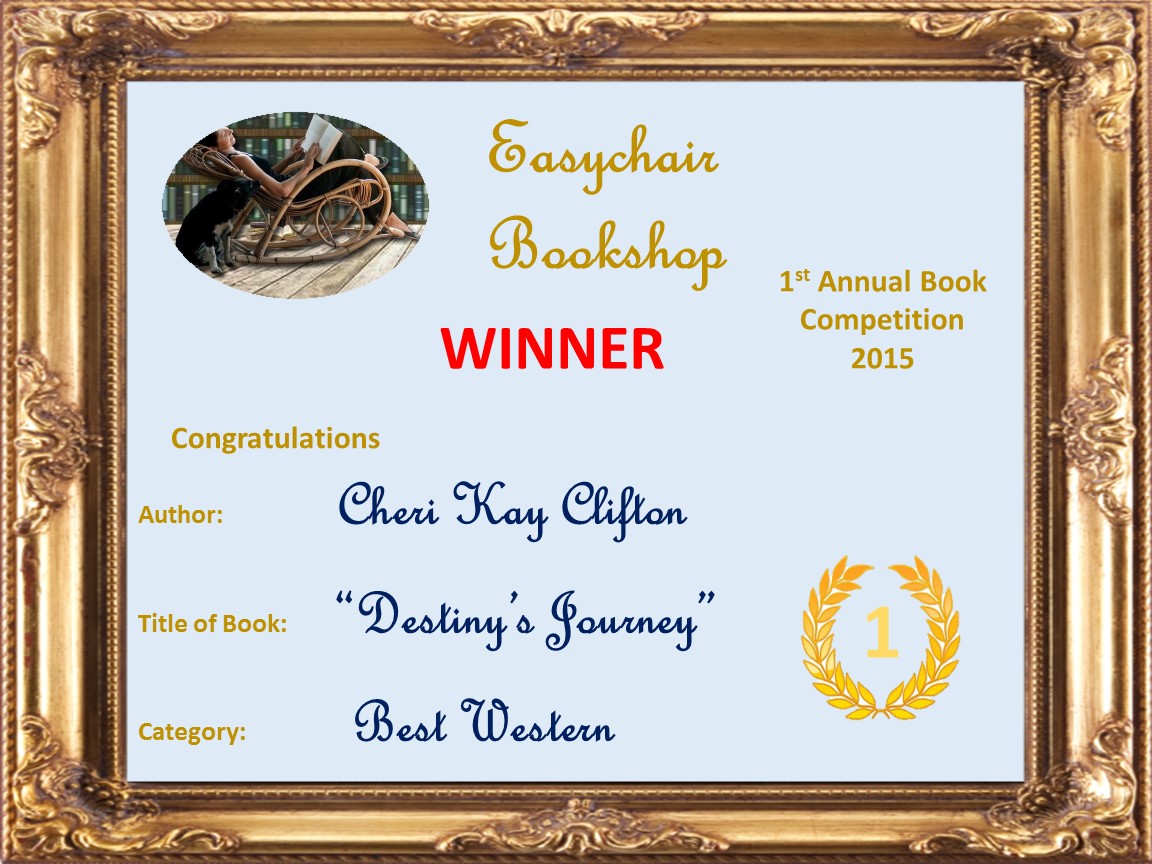 DESTINY'S JOURNEY
Award-winning Book 2 continues the Herrington Family saga.
Family deception kept Jennifer O'Malley from marrying her first love ten years ago, West Point officer, Glen Herrington.  Now a Civil War widow, she leaves war-torn Richmond, determined to find her destiny.  She makes the long journey west in search of Glen, only to discover he is a notorious outlaw with a price on his head.
 At the end of the war, Glen Herrington musters out of the U.S. Cavalry and hires on to Wells, Fargo & Company as an undercover agent.  When Jennifer confronts him locked in a jail cell, the embers of love too long denied burn deep inside them both, yet Glen is honor-bound not to reveal his true identity.
 As life-long secrets and life-threatening dangers abound, Glen and Jennifer fight to reclaim their destiny in each other's arms.
Click here for instant preview of Destiny's Journey
(click here) Available ebook & paperback:  Amazon
 Yesteryear's Destiny

Book 3 is a sensuous, adventure-filled time-travel.
When Outdoor Magazine journalist, Angela Moore skydivers out of a plane, she never expects that the surreal time and place where she lands will not only transform the life she once knew but also will control her destiny ... and for reasons, she never could have imagined.
Chasing leads through every frontier town between Pineville and Denver for months, Ben Herrington's only aim in life is to get revenge for the murder of his father by a member of the notorious Dawson Gang. But when he rescues the strange and beautiful woman, Angela, who literally falls out of the sky, she changes his fate in ways he never could have envisioned.
Angela steals a piece of time, but can she get it back again? Ben is so near yet so far away. Over a century apart, can their love keep them together?
(click here) Available ebook and paperback - Amazon
A little about Cheri Kay Clifton, author, and lover of our great American western heritage.
I enjoy researching American History
and in particular, the Old West.
 Many reasons for that:
           First, I was born in Kearney, Nebraska, the town named after Ft. Kearny located on the Oregon Trail. Growing up there, I remember visiting the fort and admiring those brave pioneers numbering in the hundreds of thousands who migrated across the continent searching for economic opportunity, and who associated land ownership and farming with freedom.  Thousands also were driven by the California Gold Rush and the hopes of striking it rich.   At the same time, I was sympathetic to the plight of the Native Americans and the impact the westward expansion had on their lives. 
          Second, I remember enjoying the era of good 'ol TV Westerns. I'm guessing some of you do too.  From the likes of Roy Rogers & Dale Evans.  From Gunsmoke to Rifleman, from Bonanza to The Big Valley, from Maverick to my all-time favorite, Wagon Train and later on, Little House on the Prairie. Those stories to me represented the romance of that era.  Also, I loved watching western movies, Butch Cassidy and the Sundance Kid, 3:10 to Yuma and especially, Dances with Wolves. Yes, a lot of it was Hollywood and strayed from the hard facts, but non the less, influenced my love and imagination for that time period.      However, I do want to stress, that though my books contain fictional places and characters, the history it entails has been strictly researched for authenticity.
          Last but not least, I feel the historical old West is a major part of our heritage and we should enjoy learning about it.  Hopefully, by reading the fictional genre I write, my readers will not only enjoy the story but the historical background as well.
Visit me at Amazon Author Central
 Wishing you Happy Trails!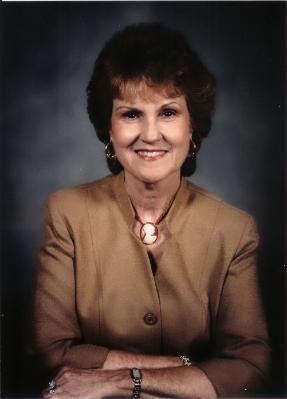 LIKE ME ON FACEBOOK